For Sale
One week old, bought for my father but his illness prevents him from using remote. Truck is in the exact condition as in the picture.
For Sale
Newly customized 3.3 Revo nitro truck. Upgrades included are new RPM front and rear a-arms, Steel traxxas drive shafts front and rear, dusty motors shock covers, RPM body mounts, Wheelie Bar, custom front and rear bumpers, all original screws replaced with stainless steel and ... Traxxas Revo
For Sale
Traxxas E revo 2.0 for sale no esc but has everything else has a hobbywing motor eco power servo two 2s 5200mah 50c lipo batterys proline roadrage tires src terrain crushers and stock tires and has a bunch of other upgrades all toe links pushrods upgraded servohorn center driveshafts ...
For Sale
... words - rc car, monster truck, traxxas
For Sale
Traxxas Revo 3.3: 1/10 Scale 4WD Nitro-Powered Monster Truck with TQi 2.4GHz Radio & TSM, Blue
TRX 3.3 racing engine delivers massive power and torque to all 4 wheels to conquer any terrain at speeds up to 45mph TQi 2.4GHz Transmitter with Traxxas Link wireless module, factory installed telemetry sensors, and TSM stability control Heavy-duty reversing transmission with ...
eBay
NEW TRAXXAS REVO 3.3 Wheels & Tires Set E REVO RR28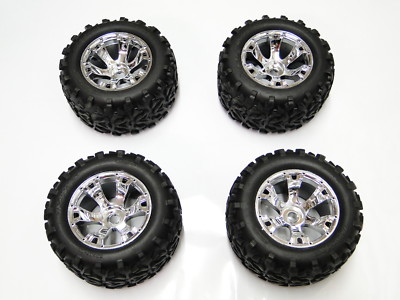 Part numbers & UPCs are for reference & may be Partials; you will ONLY receive what is in the picture. Parts are pulled from Brand NEW Complete OEM Kits or RTR's & are NOT in original manufacturers packaging. Parts trees may be separated for shipping. NEW TRAXXAS REVO 3.3 ...
For Sale
... words - rc car, monster truck, traxxas
For Sale
Has 2 remotes and starter pack and nitro rc truck is a great buy for a beginner... Runs about 70mph