For Sale
Traxxas Revo 3.3: 1/10 Scale 4WD Nitro-Powered Monster Truck with TQi 2.4GHz Radio & TSM, Blue
TRX 3.3 racing engine delivers massive power and torque to all 4 wheels to conquer any terrain at speeds up to 45mph TQi 2.4GHz Transmitter with Traxxas Link wireless module, factory installed telemetry sensors, and TSM stability control Heavy-duty reversing transmission with ...
eBay
NEW TRAXXAS REVO 3.3 Wheels & Tires Set E REVO RR28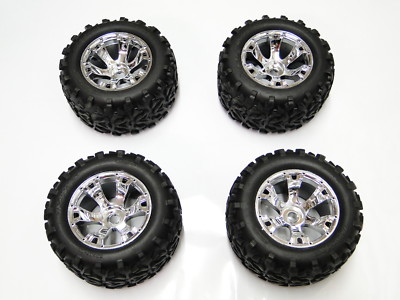 Part numbers & UPCs are for reference & may be Partials; you will ONLY receive what is in the picture. Parts are pulled from Brand NEW Complete OEM Kits or RTR's & are NOT in original manufacturers packaging. Parts trees may be separated for shipping. NEW TRAXXAS REVO 3.3 ...
For Sale
I have a Traxxas mini e Revo that I converted into a brushless setup it has a 4 pole 3650 5200kv motor with a 60 2s-3s lipo esc, hot racing hardened steel drive shafts,gears, CV axles, transmission gears and new hot racing beveled diffs I front and rear. Rpm a arms, adjustable ...
For Sale
Traxxas E-Revo. Steel axle shafts, Steel drive shafts, Aluminum turn buckles, Ceramic bearings, Full telemetry with GPS, cooling fan on motor, wheelie bar with aluminum wheels, red anodized shocks, fresh body no scratches. Chassis set up makes it very stable and easy to drive ...
For Sale
Newly rebuilt from the ground up Traxxas E-Revo Electric remote controlled truck. Freshly rebuilt anything worn or damaged has been replaced with new. Bearings all cleaned Or replaced and all waterproofed. It has the HPI 6S brushless system in it Which is a mamba monster ...
For Sale
I have an almost brand new 110 e-revo in green that is RTR, including servo, two lipo butteries, charger, and original packaging. It is just too big and fast for where I want to run it. The batteries are less than 6 months old and have been charged 4 times. Ive run the e-revo ...
For Sale
... words - rc car, monster truck, traxxas
For Sale
... with the 500mah 3s lipo batteries, and also the Traxxas aluminum rear chassis brace. THIS THING IS A BEAST. Wouldnt sell it if I didnt have too. But tough times call in for tough decisions. I just need money for an up coming a
For Sale
Comes with a set of stock tires and extra parts, two chargers, a power supply from RadioShack, 2 lipo batteries that are pretty much done for, they work enough to prove that the car works as it should, but they just dont have the juice to give it the speed it had before, and some spare parts. ...