For Sale
cash Only If the ads still up, its still available. Please email your phone , so Ill know youre not a spammer. Heres the perfect Christmas Present Imagine the peaceful quiet joy of sewing on this beautiful old machine. Its a Classic Singer 66-3 Red Eye Treadle with beautiful ...
For Sale
BADASS SHARKS 70"(180cm) Leather Belt for Singer Treadle Sewing Machine Cowhide Belting 3/16"
100% Brand new with good quality Material: Cowhide leather Total Length : about 180cm (70inch) Diameter: about 5.5-6mm It fits for most singer treadle sewing machines.
eBay
Antique 1887 Singer Treadle Sewing Machine Base Legs Cast Iron Table Base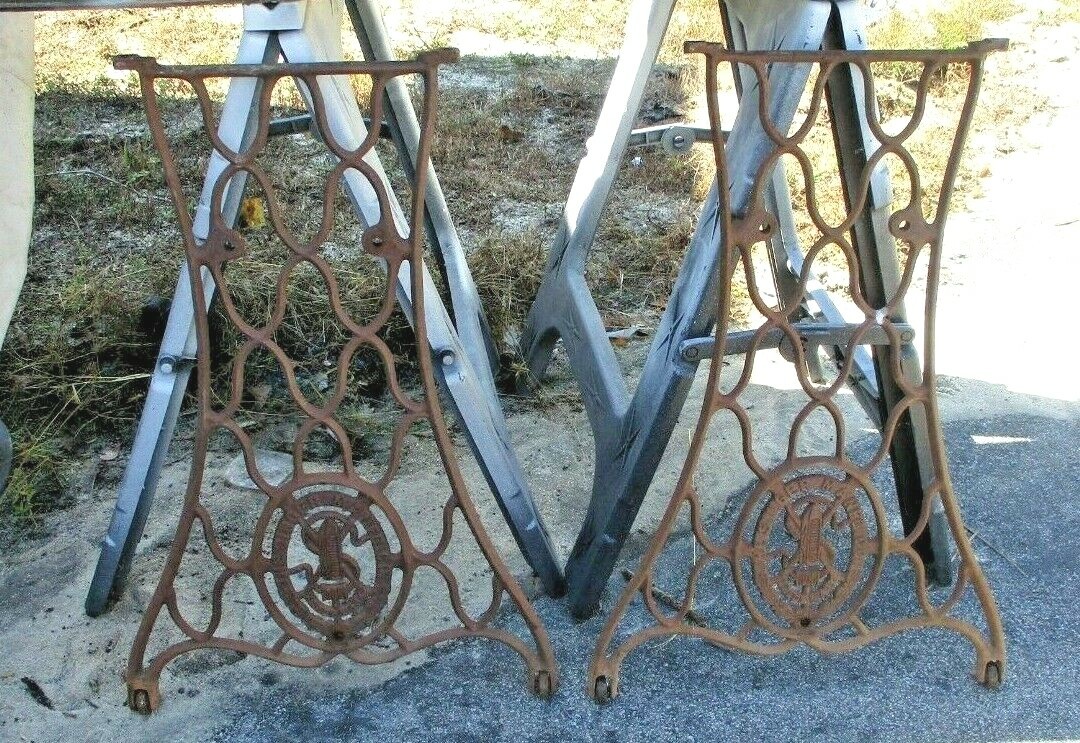 Antique 1887 Singer Treadle Sewing Machine Base Legs with Rollers Cast Iron Table BaseThis item measures: 28 1/4 tall x 18 1/2 wide base x 12 wide topSee Our Store For More Antique and Vintage Furniture HardwareCheck out my Ebay Store! Please ask questions. I describe each ...
For Sale
VINTAGE singer TREADLE SEWING MACHINE CABINET WITH PEDAL... CONVERTED TO ELECTRIC. MACHINE INSIDE THE CABINET IS A UNIVERSAL ELECTRIC MACHINE. DO NOT KNOW IF THE MACHINE WORKS, BUT THE CABINET IS GREAT MOST PEOPLE ARE INTERESTED IN THE CABINET ONLY, THE DRAWERS ARE ALL INTACT ...
For Sale
Singer 27 Treadle Sewing Machine 1907 Serial H1499226Good working condition
For Sale
In wonderful condition a 6 drawer detailed engraved treadle sewing machine.
For Sale
This is a nice Singer Treadle Frame ready for a new usePlease if you have any questions ask.For sale $65.00
For Sale
In very nice original condition, no rust and original paint. Still operates smoothly as well. Only includes what is shown in the pictures, dont have any other parts to it. About 21 12 tall and the flywheelpulley is about 12 12 in diameter.
For Sale
For SaleA beautiful Singer Manufacturing Company treadle sewing machine upscaled into a beautiful table. The cast iron treadle still moves freely and the frame is secured to the thick wood top. The top is painted grey and has delicate cream stencil. This is a gorgeous table.Measurements ...
For Sale
this machine has been in the family hard to find period even harder to get one this well cared for , operates smooth and looks great . Sew with ease and no power supply needed. And a nice thing this machine uses a very available bobbin type as well as common size singer needles ...
For Sale
This treadle is in very nice working condition , in the original smaller cabinet in this condition an absolute great find. can be used to operate many machines with some refitting call Glenn please
For Sale
Excellent condition. Works very well.