eBay
Percussion 13" & 14" Timbales Drum Sets Cowbell Holder Stand Drum Sticks Golden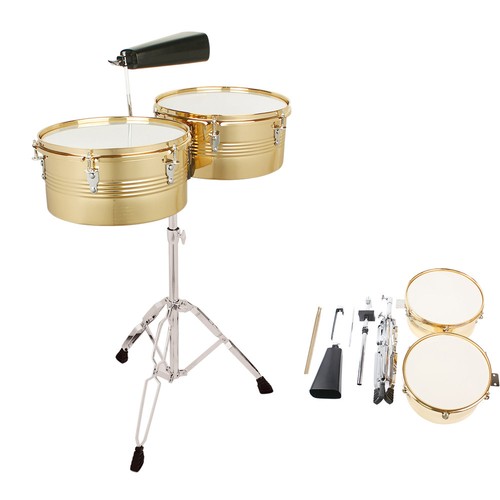 --> Percussion 13 & 14 Timbales Drum Sets Cowbell Holder Stand Drum Sticks Golden Introductions: We are so glad to share this Latin Percussion 13 & 14 Timbales Drum Set with Stand and Cowbell with you. If you are fond of playing instruments, this is your great choice! In this ...
For Sale
I have 2 DM6 Elctronic full Drum Sets with all pedals, pads, cords, power supplys, tuning key for universal framepad adjustment, sound modules and frame with hardware. Pictured here is the combination of the 2 sets minus a few pads, pedals and frame I did not use but do have ...
For Sale
These 2 Drum Sets are in pretty rough shape. One is Excel and the other is D2 ddrum. I am selling everything in the pics for $199. I do not want to separate or sell individual pieces. See pics for condition. Drum Sets can be seen and purchased at Traders World Flea Market ... Drum Sets
For Sale
Montanas Largest Selection of Used Drum Gear. Some newused sets are here. Some real beautiesTRADE IN YOU OLD KIT FOR SOMETHING FRESH AND NEWAll gear is guaranteed to work properly and to your satisfaction.pearl Studio Series Black 5 piece. Toms are 10 - 12 - 14 - 16 with 22 ...
For Sale
Discounts from 30 to 60 off on All GEAR.....NEW and USED DRUM SET SALENew Drum SetsLudwig Accent Drive 5pc drum set with Hardware and Cymbals.....only $ 399.00Ludwig Element Evolution 5pc Drum Set with Hardware and Cymbals only $ 749.00Yamaha Stage Custom Birch Shell Pack only $ 649.00 Ludwig ...
For Sale
Assorted drum sets with symbol , 2 sets $250 OBO.
For Sale
We rent professional drum sets for concerts. Call for rates.
For Sale
The red drum set is $75.00 The blue drum set is $50.00 They are both in good condition and are very new only had for 2 months
For Sale
Used Drum set for free.
For Sale
these sets are identical, one is the color red and the other is black . snare options, chain driven pedals ,heavy duty hardware, cases are optional. this is for each set
For Sale
Ludwig Questlove Breakbeats - Black Sparkle - Shell Pack $299Ludwig Questlove Breakbeats - Red Sparkle - Shell Pack $299Both kits 16 Bass, 10 Tom, 13 Floor, 14 SnareBoth in very good condition.Stands sold separate5 piece Mapex with Zildjian ZBT Cymbals $42522,Bass 16 Floor, 13 Tom, 12 tom ,14 ...
For Sale
BRAND NEW OVER 40 SETS AND PAIRS OF NEW YORK PRO STRONG DRUM STICKS $4.00 EACH PAIR OR ALL PAIRS AND SETS FOR $3.00 EACH IN LUMP SUM MAY CALL ANY TIME AT
For Sale
The first picture shows all the pieces except sticks. Sorry for the different pictures. One set taken outside and the other indoorsFeatures kick drum, two rack toms, floor tom, snare drum, crash cymbal, hi-hat set, thronestool, sticksCheck out the pictures.Calls only please. ...
For Sale
Nylon tipped. $12.00 per brick. Twelve pairs per brick. Size 2B. Priced to sell .50 cents per stick. Leave phone msg or text if interested. Local pick up only. Thx