Casting Molds for sale
For Sale
Make your own miniature figuresSilicone rubber casting molds, various sets, excellent condition priced per set below or $300.00 for all 116 moldsCivil war set 47 molds $150.00 for set complete set, originally cost $623.00Americana cowboys, Indians, calvary set 18 molds $50.00 ...
For Sale
going out of business, cement casting molds, over 30 molds with patterens. Some in Latex, silicone, Urethane. Good to fair. Local revenue in place with garden shops. Worth twice the value of asking price. Must take all molds
For Sale
Molds for ceramic casting, S5 -$20 each. Over 60 to choose from. Robert926
For Sale
over 150 molds in good condition. $100-must take all.
For Sale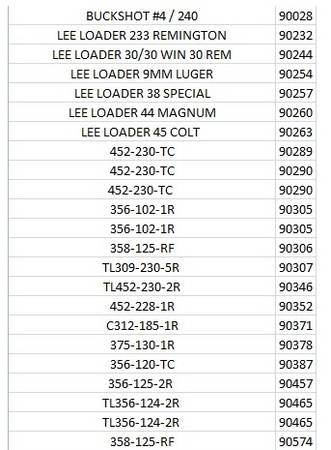 Several brand new LEE molds and lee loaders NOT DIES for castingSee picture for list2 cavity asking $406 cavity asking $70Lee loaders asking $55Pickup East Hemet 92544
For Sale
All sizes, shapes and themes. Come see and make a deal.
For Sale
All sizes, shapes and themes. Come see and make a deal.
Casting Molds
95 "Super molds" - by Amazon Customer These work like a champ. We offer ingot molds in graphite, cast iron, and steel. This saves costs along the entire casting manufacturing route.
There are currently 6 for sale listings available in EUREKA CA region. Refine your search in EUREKA CA by ads types, Including Shipping, Items, Search, Crafts, Making, Supplies, Books, Content. The average listing price for Supplies listings on ForSale.Plus $1,738. Whether you're interested in seeing Casting molds items for sale in any of your preferred neighborhoods, About, Resin,Molds,Casting. Metal,Store,Account you'll find what you're searching for.
Near Locations
Mckinney TX, Riverside CA, El Paso TX, Port Angeles WA, Eureka CA, Madison WI